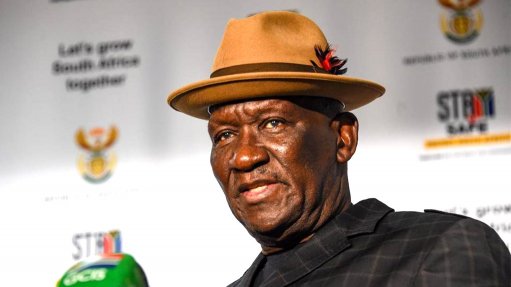 Police Minister Bheki Cele
Police Minister Bheki Cele averred on Tuesday that most deaths relating to children are a result of the "domestic set-up" while announcing a decrease in child murders by 19.9% and a slight decrease in assault with the intent to do grievous bodily harm in cases involving children.
Cele was briefing the media in Cape Town on the quarterly crime statistics, which reflected on crimes reported and detected by the South African Police Service (Saps) from January 1 to March 31.
He noted that, sadly and alarmingly, 29 more children were victims of attempted murder compared with the same comparative period last year.
The Saps registered and investigated 360 attempted murder cases involving minors.
"If one day we achieve the complete non-murder of any child in the Republic of South Africa, that will be the good day that we work towards that. If one is not mistaken this has been the second decrease in this category of crimes but the number is still very high that you look around more than 250 of these kids being killed," he said.
He made reference to the Mpumalanga mother who, in 2019, fed her four children bread that she had laced with rat poison and a father who used a hammer to murder his children.
"There is quite a high number of children that are dying on the domestic set-up, hence we need to work in the integrated way as the police, that one cannot be won by the police alone, the departments like Social Development and other stakeholders and NGOs should be part of dealing with this issue," he added.
Cele said there were those who are just criminals against kids, making reference to a parolee who raped a six-year old in the Western Cape.
"There are those who just prey on young people but there are those muthi issues. It does look like the muthi killings on children are increasing. Unfortunately even there, you find that there is a domestic element, as most of the time those missing children are taken by relatives or family members," he said.
Meanwhile, women continue to be stalked by violence, mainly at the hands of men.
Cele explained that a double-digit percentage increase of 21.5% was recorded in attempted murder figures for the fourth quarter.
"This means there were 1 485 attempted murders of women in South Africa in the first three months of this year. 969 women were killed in the same period and over 15 000 women were assaulted and the Saps are investigating assault GBV cases," he said.
Meanwhile, he said murder increased countrywide, by 3.4%, between January and March 2023, however, it is the lowest single-digit decrease recorded, compared with the previous three quarters.
"Though it is a decrease, these are not just figures but human lives that should be protected at all costs. This is why these figures prompt us as the police to double-up policing efforts to decrease contact crimes," Cele stated.
He announced that 6 289 people were killed with either a firearm, knife, sharp and blunt instruments, stone and bare hands, between January and March this year, with the majority of the killings taking place in the KwaZulu-Natal (KZN), Western Cape and Gauteng provinces with arguments, vigilantism and robberies topping the motive list for murder.
He added that KZN also reported the highest figures of multiple-murder cases, followed by the Eastern Cape with 206 and 155 victims respectively.
The Free State, Northern Cape and Western Cape provinces recorded decreases in murder figures with both the Western Cape and Northern Cape reporting double-digit decreases in murder cases, he outlined.
He said that while more work still needed to be done to combat contact crimes, the drop in murder figures was welcomed.
"These crime figures also show that the Western Cape is turning the corner on contact crimes cases. This is largely owing to combined efforts by law enforcement targeting high crime areas such as the Cape Flats," Cele said.