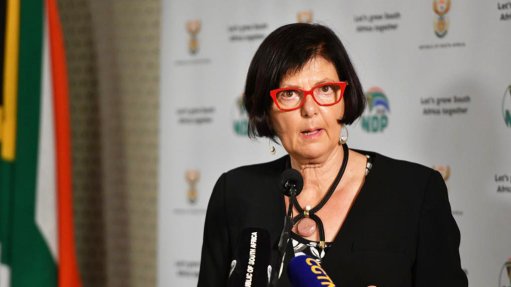 Forestry, Fisheries and the Environment Minister Barbara Creecy
Forestry, Fisheries and the Environment Minister Barbara Creecy reports that she has written to provincial environment MECs to enquire whether they require any assistance in processing environmental impact assessments (EIAs) for embedded-generation projects that could help relieve pressure on the country's load-shedding-prone grid.
Speaking ahead of her department's Budget Vote, Creecy said her letter outlined the urgency of the projects, which are being pursued by miners and other energy-intensive businesses in line with a recent market reform allowing sub-100 MW projects to proceed without a licence.
The processing of EIA applications has been identified as one of several factors standing in the way of some 58 such projects that have combined generation potential of more that 4 500 MW and an investment value of about R54-billion.
A joint task team, involving government departments and agencies, the Minerals Council South Africa and the Energy Intensive Users Group is meeting weekly under the aegis of Operation Vulindlela to resolve obstacles at an individual project level, as well as to address remaining constraints at a systemic level.
The Presidency's project management office head Rudi Dicks reported recently that the task team is working to shorten the timeframes for EIAs and water-use licences through the designation of embedded generation projects as Strategic Infrastructure Projects.
Dicks also reported that dedicated capacity had been created withing Eskom to process grid-connection applications more quickly and that wheeling frameworks and tariffs were being finalised at the municipal level.
Progress is also reportedly being made to simplify the National Energy Regulator of South Africa's registration process, including by addressing onerous requirements, such as the stipulation that a power purchase agreement be included at registration.
"With regard to the EIA for the 100 MW projects, I have written to all the MECs and I have said to them that we can assist them to fast-track the EIAs or, if they are agreeable, we can actually take over the EIAs for these projects.
"I'm waiting to hear what their preference is, but I have emphasised to them that these are extremely urgent projects," Creecy said.
She added that a one-size-fits-all approach was not necessary, as some of the provincial administrations were "quite speedy and efficient" and the department would, thus, target only those administrations that required additional support.
AIR QUALITY PANEL
Creecy also used her Budget Vote to confirm her decision to appoint a panel of six experts to provide advice with regards to appeals against various decisions by the department's National Air Quality Officer in relation to requests for the suspension and postponement of compliance with the Minimum Emission Standards (MES).
Initially, she requested the Presidential Climate Commission to oversee the process, but the commission had indicated that it had insufficient capacity to fulfil the role.
A notice had been Gazetted calling for nominations to the panel by May 26.
Once assembled, Creecy expected the panel to hear evidence from various stakeholders, including Eskom, which has warned that some 16 000 MW of coal capacity would need to be shut immediately unless a postponement was granted.
"In my view, it's necessary to air all of the evidence that would pertain to human health and environmental issues, but also … the economic implications of the emitter having to take facilities offline.
"I think it's important that we hear all of that evidence and we try to work out what would be the best solution because this is obviously an area where there has been a lot of divergent opinions between different interest groups in our society."
She acknowledged, though, that South Africa continued to face severe air pollution in the three highly industrialised priority areas of the Vaal Triangle, Highveld and the Waterberg-Bojanala areas.
"The regulations for implementing and enforcing priority area air quality management plans will be published before the end of 2022," she said, without referencing a decision to appeal part of a High Court judgment recognising air pollution as a violation of the Constitutional rights of citizens living in the Highveld Priority Area.
The judgment also declared that Creecy had a legal duty to prescribe regulations under Section 20 of the National Environmental Management: Air Quality Act and gave 12 months for such regulations to be prescribed.
Meanwhile, Creecy also announced that the process for setting sectoral emission targets outlining emission reduction goals for key sectors would get under way during the 2022/23 financial year.