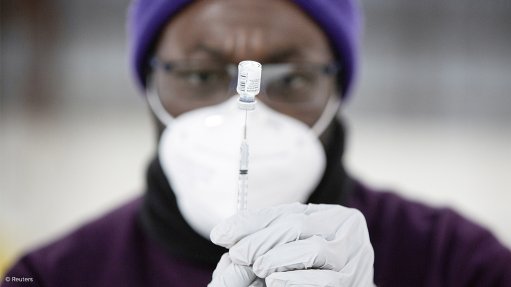 Photo by: Reuters
More than 800 people with Covid-19 were hospitalised countrywide in the last day, taking the number of people admitted to both public and private hospitals to 17 178.
South Africa recorded 8 929 new confirmed Covid-19 infections on Tuesday and 596 deaths, bringing the official death toll to 67 676.
According to a statement by the National Institute for Communicable Diseases (NICD), as of Tuesday, the country recorded 2 311 232 laboratory-confirmed cases.
"The National Institute for Communicable Diseases (NICD)… reports that 8 929 new Covid-19 cases have been identified in South Africa, representing a 22.2% positivity rate," the statement read.
As of Tuesday, Gauteng recorded 822 159 laboratory-confirmed cases, followed by KwaZulu-Natal with 377 395 and the Western Cape with 367 523.
"The majority of new cases today (Tuesday) are from Gauteng (37%), followed by the Western Cape (19%). KwaZulu-Natal accounted for 11%; the North West accounted for 8%; the Eastern Cape accounted for 7%; Mpumalanga and Limpopo each accounted for 6%; the Free State accounted for 4%; and the Northern Cape accounted for 2% of today's new cases," NICD spokesperson Sinenhlanhla Jimoh said.
Gauteng recorded 3 295 new cases on Tuesday, the Western Cape 1 675 and KwaZulu-Natal 1 007.
South Africa has conducted 14 310 166 cumulative tests, of which 40 173 were carried out in the last 24 hours.
"Testing rates have decreased in the past two weeks, and while this may be reflective of a decreased need for testing due to decreased infections, access to testing has been limited in certain areas due to the social unrest," said Dr Michelle Groome, centre head for the Division of Public Health Surveillance and Response at the NICD.
"Thus, trends in the coming week will be important in confirming whether the peak of the third wave has indeed been reached or not," Groome added.
The recovery rate is 90.2%, which translates to 2 085 119 recoveries.
According to the Department of Health, 5 558 378 vaccine doses have been administered. Of those, 221 417 were administered in the last 24 hours.
To date, 870 412 people have been fully vaccinated with the Pfizer vaccine, while 1 023 188 have been vaccinated with the single-dose Johnson & Johnson vaccine.