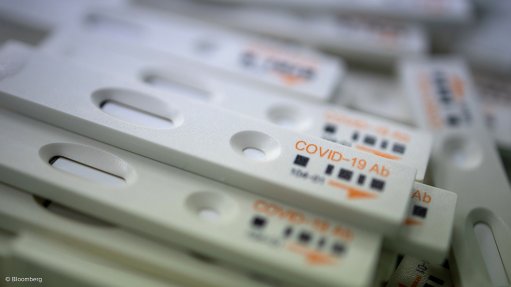 Photo by: Bloomberg
South Africa has recorded 1 503 796 Covid-19 cases, with 1 429 new cases reported as of Sunday.
Another 113 new deaths were also recorded by Sunday evening.
The total number of healthcare workers who would be vaccinated under the Sisonke protocol is 15 388. These vaccinations started at 18:00 on Sunday.
According to the latest statement issued by Health Minister Zweli Mkhize, the cumulative total of tests conducted to date is 8 892 515, with 24 856 new tests recorded since the last report.
Gauteng remains the most affected province with 401 995 (26.7% of the total) confirmed cases. KwaZulu-Natal has recorded 327 001 confirmed cases, followed by the Western Cape's 276 246 and the Eastern Cape's 193 682.
Mkhize said the 113 Covid-19-related deaths included two in the Eastern Cape, 12 in the Free State, 17 in Gauteng, one in KwaZulu-Natal, 69 in the North West, two in the Northern Cape and 10 in the Western Cape.
"We convey our condolences to the loved ones of the departed and thank the healthcare workers who treated the deceased patients."
He said the country's recoveries stood at 1 412 015, representing a recovery rate of 93.8%.
KZN has around 13 963 active cases, while the Western Cape has 4 675 active cases.
The latest statistics come after the country received its first batch of Johnson & Johnson vaccines for frontline workers. The vaccines have been distributed to more than 30 vaccination sites across the country.