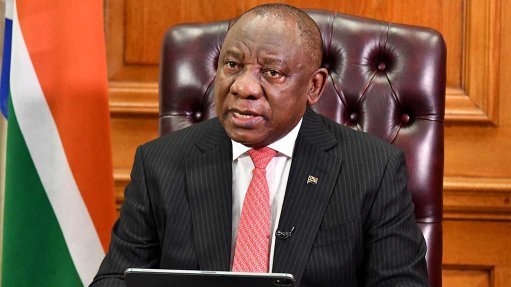 President Cyril Ramaphosa
President Cyril Ramaphosa on Monday addressed the corrupt activities that have recently made headlines, labelling corruption during a national disaster as a heinous crime and revealing that he would be receiving interim progress reports every six weeks, on various cases.
He promised that investigations that had found wrongdoing would be fast-tracked for prosecution.
Ramaphosa's ruling party the African National Congress has been accused of corruption and reckless spending on personal protective equipment, with his own spokesperson Khusela Diko taking leave of absence from her government roles, pending investigations into allegations involving her and her husband and tender regulations in the Gauteng Department of Health.
In his weekly column to the nation Ramaphosa condemned the price inflation of surgical masks by as much as 900% and questioned how a councillor could stockpile emergency food parcels meant for the poor for their own family, or why another councillor would divert water tankers, en route to a needy community, to their own home.
"It is impossible to discern what drives an entire family whose member stole funds meant for unemployed workers to go on a spending spree, buying cars, paying for renovations and beauty treatments, and even tombstones. Attempting to profit from a disaster that is claiming the lives of our people every day is the action of scavengers. It is like a pack of hyenas circling wounded prey," Ramaphosa said.
Such stories, he said, opened wounds of State capture and had enraged South Africans.
Government has instituted several measures to safeguard funds allocated to tackle the coronavirus (Covid-19) pandemic, including regulations for the fair, transparent, cost-effective and competitive procurement of supplies and services.
The Competition Commission is prosecuting companies for excessive pricing and the Auditor-General is undertaking special audits to find and prevent misuse of funds.
Ramaphosa recently gave powers to the Special Investigating Unit (SIU) to investigate unlawful and improper conduct by the State in the procurement of goods and services during the national lockdown.
The SIU also has powers to recover funds through civil proceedings.
Government has also undertaken information sharing between various agencies to detect, investigate and prosecute Covid-19-related corruption.
A special centre has been established to include the Financial Intelligence Centre, the Independent Police Investigative Directorate, the National Prosecuting Authority, the Hawks, Crime Intelligence and the SAPS Detective Service, South African Revenue Service, SIU and the State Security Agency.
"This strengthens our response immensely. These bodies are now working together not just to investigate individual allegations, but also establish linkages between patronage networks that are trying to hide their activities. Because of this cooperation, prosecutions should proceed more quickly and stand a better chance of success," Ramaphosa said.
He encouraged South Africans to "blow the whistle" on corruption in all sectors and urged public servants to avoid even the perception of conflicts of interest.
He called out nepotism and entrenched political patronage networks and said laws, stronger enforcement, political will and social mobilisation were needed to tackle them.
He promised to turn the tide on political patronage and said public service culture would change through more openness and transparency.
"We will not allow public funds hard-earned by loyal taxpayers or donations by patriotic companies and individuals and the international community to vanish down a black hole of corruption. Those found to have broken the law to enrich themselves through this crisis will not get to enjoy their spoils, regardless of who they are or with whom they may be connected," Ramaphosa said.