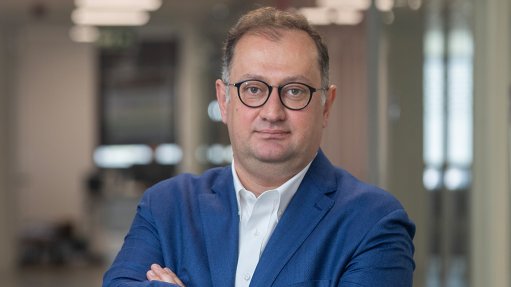 Menar MD Vuslat Bayoglu.
JOHANNESBURG (miningweekly.com) – The construction phase of the new Gugulethu Colliery is in full swing.
"We've started working on the box cut with the anticipation that first coal will be extracted sometime around July/August this year," Menar MD Vuslat Bayoglu tells Mining Weekly. (Also watch attached Creamer Media video.)
The R600-million capital being expended on the Gugulethu project in Mpumalanga makes up more than half of the R1.04-billion worth of investment in South Africa pledged by Menar at President Cyril Ramaphosa's South Africa Investment Conference.
Menar pledged an overall R1.04-billion at the fifth SA Investment Conference to fund two mining ventures that fall under its subsidiary, Canyon Coal. A further R440-million will go towards developing the Thuso project, also in Mpumalanga.
The fully licensed Gugulethu Colliery, southeast of Hendrina, is projected to create 400 jobs.
Developments have progressed well, despite delays in the construction of the road at the beginning due to heavy rains.
Two teams working on the box cut are removing the topsoil and stockpiling it separately.
The refurbished processing plant infrastructure is scheduled to be operational by September.
The first phase of opencast operation is expected to produce 200 000 t of run-of-mine coal a month. The second phase, which consists of underground mining, should resume in seven years.
Thuso, in Bethal, is also fully licensed and work on its infrastructure plan is being finalised.
"If the coal prices stabilise, we should be able to start developing Thuso by the fourth quarter of this year. Both these mines will supply the export market because the local market is currently not viable due to Eskom not burning enough coal," Bayoglu points out.
Mining Weekly: The last time we spoke, you expressed confidence that South Africa's coal export logistics problems would be sorted out. Are you still of that view?
Bayoglu: I think we will have the most competitive tariffs in the world, should the situation at Transnet stabilise. But the challenge is that the unavailability of locomotives is yet to be resolved, resulting in Transnet's continued underperformance. We know that Public Enterprises Minister Pravin Gordhan recently visited China to fix the situation but there is no feedback on whether the diplomatic intervention was a success or not. Transnet might also have other challenges on top of the unavailability of locomotives. I am sure that Transnet CEO Portia Derby has assessed the situation and she will take the necessary steps to steer the organisation in the right direction. A few years ago, they offered severance packages, which led to the organisation losing a lot of experienced people. Perhaps Transnet should consider roping those professionals back in because they were effective in handling things like maintenance and running the lines efficiently. The Transnet and Freight Rail CEOs are open in their communication but the challenge is that they are not making critical decisions on time which creates a lot of frustration in the industry. I am very hopeful that the problem will be fixed. Complaining is not going to help us. We must engage in constructive discussions and try to come up with solutions because there is only one Transnet and to build another one could take us another 40 or 50 years.
Another challenge is that there seems to be some reluctance toward private sector involvement when it comes to rail. I do not think they should be afraid, because the private sector has the potential to add value by coming up with new ideas and less bureaucratic procurement processes. Transnet can still be in control through regulating the industry and owning the infrastructure. Mining industry companies that move various bulk commodities through the ports like chrome, manganese and coal are prepared to work with Transnet. This is not to say that the private sector wants to tell Transnet how to run its affairs, but rather to work with the rail operator under its guidance.
Once we have passed that hurdle it will be easier for South Africa to move more products for export markets. I think the Richards Bay Coal Terminal (RBCT) might be the best and most efficient port in the world. They are doing extremely well and they have a great CEO with a competent team. Even if it's a private business, RBCT plays a key role in developing communities, providing skills development, and supporting junior miners. Transnet should look at the management of other ports like Multipurpose Terminal that seem not to be as efficient. The Multipurpose Terminal is critical for the South African economy because it is dealing with many commodities like iron, steel, and chrome. What Transnet is doing in terms of running the container terminals is good because they are getting the private sector involved, creating profitability and more efficiency. The same thing can be achieved for the Multipurpose Terminal, but Transnet needs to intervene. Unlike RBCT, which only deals with coal, the Multipurpose Terminal deals with many commodities such as pig iron, steel, chrome, and rock phosphate, so the industrial hub in Richards Bay is relying on the Multipurpose Terminal's capabilities. It's critical that the Multipurpose Terminal is a world-class port dealing with bulk commodities.
What should be done in the medium-to-longer term to ensure that South Africa's coal exportation is optimised?
First, we need to encourage exploration. For a country that has up to 50 different types of minerals, we should be intensifying our exploration efforts. Currently the government's exploration strategy is based on making sure we have sufficient geoscientific data, implementing a reliable licensing regime and attracting exploration investments. Second, we need to keep logistics costs as low as possible to make our exports competitive. With lower coal prices, many marginal mines are immediately put at risk, because trucking is prohibitive. So the need for improvement on the part of Transnet is non-negotiable both in the short and the long term.
What is the latest on Menar's manganese and gold interests?
Manganese is doing well, apart from the price, which is very flat. We've successfully developed the mine. It was a great learning curve in terms of mining and processing manganese as well as the logistics involved. One of the bottlenecks is that when the price is flat you must move the product by rail. Transnet came to the party and offered six emerging miners two-million tons to move their product. They have committed to increasing capacity, so this process does not disadvantage major manganese miners who also need to move their loads. We are hoping to move our manganese by rail within the next month, which is a positive development. Currently, we are looking into other opportunities in manganese and have an underground manganese project in the pipeline, but the flat manganese price is concerning, and we are still assessing how the project can be developed.
Gold is important for us because when markets are volatile, and the gold price elevates it becomes like a hedge for the other operations. We have a project called Ala-Buka in the Kyrgyz Republic where we have drilled about 25 000 m so far. We have proven about 450 000 oz, and we are looking to get to one-million ounces. When we reach that target, we will begin to develop that project.
Is Menar planning to diversify any further?
Diversification is a critical part of our overall expansion strategy. In the main, we are looking at different mineral commodities and logistics. We are looking at projects in different parts of South Africa, in the Democratic Republic of Congo and Zambia with an interest in exploring for different commodities, including copper and cobalt. With the exception of diamonds, we are looking at everything.
INTERNATIONAL DRY BULK TERMINALS GROUP
In March, Menar joined the international dry bulk terminals group, or DBTG, as an associate member, as part of its mission to expand into mega logistics value chains.
Bayoglu is of the view that private companies will eventually get opportunities to run rail and port services in South Africa, in partnership with Transnet, and is creating a team to help make the right decisions.
ASPIRING TO TRADE POWER
Another opportunity being seriously considered is entry into power trade by creating renewable energy electricity generation capacity.
The group, which has 50 MW of installed capacity coming from Eskom, would like to create its own solar power generation capacity, using the ample space it has on its mines. Mines such as Kangra, Khanye, ZAC and Gugulethu have sufficient lifespan and space for viable solar installation.
"We would like to provide power to our mines and on top of that also trade the power. The power can be used for operations and traded," says Bayoglu.
Envisaged is that the power not used for group mines can be made available within the new frameworks created by the Operation Vulindlela team, Eskom, the Department of Public Enterprises and the Department of Mineral Resources and Energy.
"We think that we can be a role player in renewable energy and maybe we can get to zero-carbon emission on our mines at some point. These are the business possibilities that we're discussing with our business development teams and we're hoping that, in the next six months, we'll possibly be able to take a decision on 50 MW of solar capacity in our mines," Bayoglu foresees.
Menar, now relocated in stunning new headquarters in Sandton, off Grayston Drive, 400 m from its previous offices, is a private investment company with a growing portfolio of mostly mining assets.
Its growth strategy combines acquisitions, greenfield project development and organically growing existing operations and it has expertise in developing projects from scratch, uplifting challenging businesses post-acquisition, and adding value to existing self-established entities.