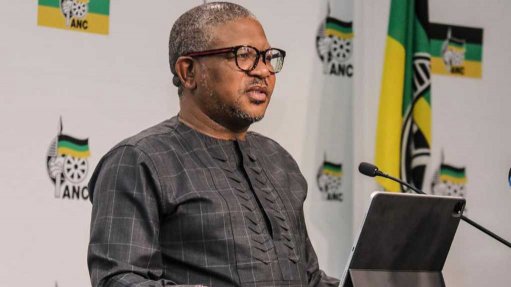 ANC SG Fikile Mbalula
African National Congress (ANC) secretary general Fikile Mbalula said on Tuesday that coalitions in the country are "in a state of disaster" but he gave assurances that the ANC is working on leading discussions to bring about stability in hung metros around the country.
Mbalula briefed media on the outcomes of the party's four-day regular National Executive Committee (NEC) meeting where he said the ANC would only work with liberation movements, small parties, community-based organisations, service delivery forums and independent candidates who were committed to redress and correcting the legacy of apartheid and colonialism.
The ANC believes that coalitions must be based on an agreement between involved parties and should be made public.
Former Gauteng Premier David Makhura and Cooperative Governance and Traditional Affairs Minister Thembi Nkadimeng have been tasked to lead the coalition issues as metros struggle to hold down stable mayoral positions.
"We want stability of these metros. We won't work with the Democratic Alliance (DA) as they are an apologists to race and racism and as they believe that affirmative action is the problem," said Mbalula.
He claimed that the DA's approach was to ignore over 300 years of oppressive rule and prioritise Eskom, which was against the ANC's approach.
Mbalula stated that the ANC would only work with the DA when they have no choice.
The party also believes that coalitions must be based on an agreement between the involved political parties and that they should be made public.
Among the resolutions is that the majority party should lead the executive.
Mbalula said the ANC will consider working with all parties, except for those that are "toxic".
ELECTRICITY
Mbalula said the ANC NEC had resolved to help with mitigation plans to save electricity, with the winter surge expected to result in a need for energy load reduction.
He said improvements in power utility Eskom, as well as at power plants, should be closely monitored.
The ANC has resolved to implement a public campaign to encourage households and industries to reduce electricity demand.
Mbalula said all efforts should be towards making sure that places such as hospitals, data centres and national key points were not affected.
The party also called for an immediate and aggressive rollout of solar photovoltaic rooftop installations for households and industries.
On the issues relating to a perceived power struggle between Energy Minister Gwede Mantashe, Public Enterprises Minister Pravin Gordhan and the newly elected Electricity Minister Kgosientsho Ramokgopa, Mbalula said President Cyril Ramaphosa would give direction on the matter in the coming week.
He said it was Ramaphosa's responsibility to resolve the issue with speed as "sometimes power runs into the Minister's heads and results in them losing focus".
CRIME
The ANC has urged the Justice and Security Cluster to accelerate a focused approach in the fight against violent and hate crimes, which have been on the rise lately.
"If it means soldiers must be deployed, that should happen," Mbalula said.
The ANC will also launch a major campaign with civil society to mobilise street committees and community policing forums in various areas.
"The police alone and the cluster as much as we call them in the front, they will not win alone in the fight against crime without working with communities. To this extent the ANC will convene peace and stability to lead this approach and restrategise, intensify our efforts in the fight against crime. There is no time to waste. That is the call of the NEC," Mbalula stated.