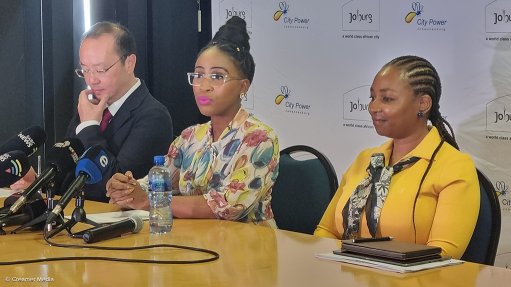 City of Johannesburg environment and infrastructure services MMC Michael Sun, Executive Mayor Mpho Phalatse and City Power CEO Tshifularo Mashava
Photo by: Creamer Media's Marleny Arnoldi
Ahead of being removed as the City of Johannesburg (CoJ) mayor on January 26, Mpho Phalatse unveiled City Power's 'Sustainable Energy Strategy', which it has published with the aim of attracting funding, to help reduce the severity of loadshedding in the city.
She says the city has been on a path towards reducing its reliance on Eskom in earnest since May last year, following the Joburg Energy Indaba.
City Power has since put out requests for proposals for short-term power purchase agreements to secure energy from independent power producers (IPPs) for up to 36 months.
The first round of tenders went out in November last year, with the closing date being February 10.
Additionally, City Power is undergoing an approval process for Ministerial determination to procure power on a longer-term basis from IPPs. City Power seeks to secure additional capacity from diversified energy sources, including solar, gas, battery storage, waste-to-energy and gas-to-power projects.
Phalatse says the CoJ is ultimately working towards procuring an additional 500 MW of electricity, which could offset up to five stages of loadshedding.
The short-term objectives of the 'Sustainable Energy Strategy' has an estimated cost requirement of R401-million, to avert up to Stage 3 loadshedding, since Stage 2 and 3 loadshedding is likely to continue for at least the next 18 months.
Particularly, Phalatse says, for R20-million, the city can recommission its two existing open-cycle gas turbine stations, which could produce 74 MW of power; however, this will require the city to procure and burn diesel.
The CoJ already has 1.2-million litres of diesel on hand for these sites.
Further, at R85-million, City Power can use ripple relay systems to remotely regulate high-energy use products such as geysers, swimming pool motors and the like, which could save 80 MW, but only when absolutely necessary, Phalatse points out.
For the city to produce and distribute smart meters and a communication system to enable City Power to limit the amount of power distributed to homes, it will need R203-million.
Phalatse explains that, instead of completely turning off the power, the city can supply homes with enough energy to power essential needs. This could save an additional 322 MW, when needed and not on a whim, and with the necessary communication to customers.
For City Power to better monitor, control and optimise its transmission system, it requires R120-million.
"Unfortunately, the CoJ does not have R401-million lying around that can be easily shifted to this strategy. We are, therefore, exploring the establishment of an infrastructure fund and we will be approaching development finance institutions, the private sector and provincial and national governments to fund this project, where we will leverage our status as the economic hub of the country," Phalatse states.
City Power CEO Tshifularo Mashava confirms that, if the entity were to get the money immediately, it would take up to six months to get this mitigation plan active, given that much of the infrastructure is already in place.
Phalatse notes that, despite the threat of her possibly being removed from office again, the 'Sustainable Energy Strategy' is not about politics, but a legacy project to ensure Johannesburg can continue to operate, and more sustainably at that.
She says the city has been losing customers and revenue owing to customers going semi- or completely off-grid.
Between July 1, 2021, and June 30, 2022, City Power experienced losses of 386 GWh, resulting in a net revenue loss of about R284-million. The entity has also incurred costs of about R155-million, owing to overtime as a result of loadshedding, and R35-million in insurance costs. This translates to a total loss of R474-million in the period under review.
Moreover, City Power also incurs losses owing to vandalism and theft, having spent R200-million on 390 mini substations between July 1, 2021, and November 11, 2022, to repair or replace damaged or stolen equipment – which happens more often during loadshedding.
"We are losing on average two mini substations a day," Mashava laments, explaining that there are organised syndicates operating in the city during blackouts.
Phalatse points out that the city stands to lose more residents owing to loadshedding, since people are increasingly moving to the Western Cape, which has made advanced strides in mitigating loadshedding and the economic impact thereof.
"As a city that makes up 16% of South Africa's gross domestic product, and 40% of Gauteng's economy, we are facing an economic emergency as a result of loadshedding," she avers.