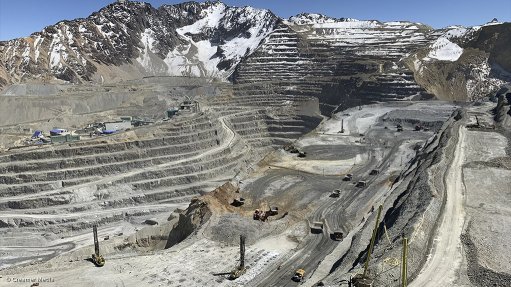 Los Bronces copper mine in the ice-capped Andes.
JOHANNESBURG (miningweekly.com) – Anglo American has designed the new Los Bronces integrated project in Chile as an example of "the very best of modern mining", says Anglo American base metals business CEO Ruben Fernandes.
The 156-year-old copper operation, located in the ice-topped Andes mountain region, is owned 50.1% by Anglo, 20.4% by Mitsubishi and 29.5% by Chile's State-owned Codelco and joint venture partner Mitsui.
The Los Bronces integrated project, Anglo adds in a media release to Mining Weekly, has no impact on glaciers (see picture), requires no additional fresh water or tailings facilities, provides extensive protection for the environment, and offers considerable improvement in air quality for the broader region of Santiago, the Chilean capital.
A Committee of Ministers has approved the environmental permit application so that the next phase of the existing opencast operation within Los Bronces' operating site can be set up and replace future lower grade ore by accessing higher grade ore from a new underground section of the mine.
The project is being taken through its prefeasibility stages towards submission in due course to the Anglo board.
When Mining Weekly visited the operation in 2019, a slide was flashed onto the presentation screen that declared sustainability as "the heart of this business". Shortly before Mining Weekly arrived, an environmental impact study was submitted for the expansion of the perimeter of the opencast mine to access better-quality minerals, as well as for the underground mine.
At the mine's Las Tortolas tailings dam is the world's first floating solar electricity plant with 256 photovoltaic panels. Mining Weekly witnessed the floating platform generating 150 000 kWh of clean, green electricity a year and preventing the evaporation of 3 000 m3 of water a year.
Anglo has had a presence in Chile since 1980 and also has holdings in the Collahuasi and El Soldado copper mines, and the Chagres smelter. Anglo's copper production guidance for Chile for 2023, subject to water availability, is 530 000 t to 580 000 t.