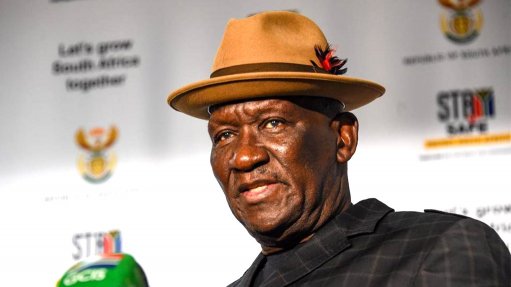 Police Minister Bheki Cele
Although there is a decrease in total sexual offences – such as rape, sexual assault, attempted sexual offences and contact sexual offences – Police Minister Bheki Cele noted on Friday that the reporting period from April to June 2022 showed that South Africa was brutal and dangerous for women and children.
He presented the quarterly crime statistics, where he said there was a drop of more than 800 cases of sexual offences, which are mostly perpetrated against women.
However, he said violent crimes committed against women and children were recorded at alarmingly high and unacceptable levels.
From April to June 2022, 855 women and 243 children were killed in South Africa. Over 11 000 grievous bodily harm cases, with female victims, were opened with the police, 1 670 of such cases involved children.
Cele said the police are investigating attempted murder dockets for over 1 400 women and children who escaped death. He noted that 9 516 rape cases were opened with the South African Police Service during the reporting period.
This is almost 500 fewer rape cases reported when compared with the same period last year.
"While rape cases declined in all provinces, the North West and Northern Cape provinces are the only provinces to report increases in this crime category. 3 780 of the rapes took place in the homes of the rapists or homes of the victims. 1 546 people were raped in public places such as streets, parks and beaches. Public transportation, such as buses, taxis and trains, is the third most likely place of occurrence for rape cases," Cele said.
He said 286 rapists were convicted through investigative work done by the Family Violence, Child Protection and Sexual Offences (FCS) unit, with 46 of the rapists sentenced to life behind bars.
"While the majority of rapes do take place behind closed doors and [this makes it difficult for] police, we are confident that it is through the FCS detective work that [more rapes are prevented], hence the decrease in rape cases during the reporting period. Serial rapists are stopped in their tracks and such convictions ensure these heartless rapists never rape again," Cele stated.
Sixty-five serial sexual offence cases were finalised, with 16 of these offenders convicted. They will serve a total of 20 life sentences and 886 years imprisonment.
MURDER CASES SKYROCKETING
Cele said the number of murders in the country remained high and worrisome, highlighting that 6 424 people were killed in the first quarter of the financial year.
Cele said this was an increase of 664 more people murdered, when compared with the same period last year, when the country was under level one and two of the Covid-19 Lockdown.
The three main causes for murders remained arguments and misunderstandings, he explained. He said retaliation and revenge murders were the second greatest motive for murder, while vigilantism was the third most likely cause of murder in South Africa.
He said the uMlazi and Plessislaer police stations in KwaZulu-Natal and the Mthatha station in the Eastern Cape registered the highest number of murder cases – 221 murder cases.
Cele explained that 18 police officers were killed during this reporting period, 13 fewer police officers than in the same reporting period last year.