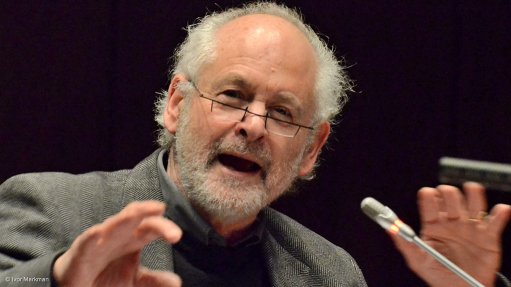 Professor Raymond Suttner
Photo by: Ivor Markman
While many of us constantly dissect the ANC's actions, its various weaknesses and the dangers they pose to our country, are opposition forces shaping up as potential replacements to run this country?
After the 2016 local government elections, there was a widespread sense that the ANC was no longer electorally invulnerable. I share the view that the ANC could well fall below 50% in the 2019 national elections. Armed with victories in three major Metros with huge budgets, there is a strong incentive for the Democratic Alliance, assuming it retains the support of its coalition partners, to perform well and show what they think DA government means. In doing so, they may seek to replicate the real or claimed successes of the Western Cape and the city of Cape Town. (At the time of writing there is a possibility that the ANC may also lose Ekurhuleni and Rustenburg due to an alleged failure to honour a coalition deal with the African Independent Congress, AIC, to transfer Matatiele back from the Eastern Cape to KwaZulu-Natal.)
To defeat the ANC electorally, whether through a precarious coalition or in any other way, does not mean that the victory is sustainable. In the major metros mentioned there might already be potential sticking points in the local government alliances, though the parties may be reluctant to have their alliance fail and allow the return of the ANC to government.
At a national level, forming alliances or coalitions is more difficult because the scope of government is much more far-reaching and, provided that the government acts within the law, cannot be limited by or overruled by a higher authority. This is unlike the local government's relationship with provincial and national authorities, where local powers are limited and can sometimes be overridden by provincial and national authorities.
Electorates can be fickle. Where power is held through the support of parties that do not share the DA's ideology, a fairly large area of uncertainty prevails. The factors that motivated those who voted against the ANC in the local government elections cannot be assumed to survive. They could well dissipate before the national elections.
But even if the ANC is defeated in 2019, it does not mean that a coalition government can easily step into the ANC's shoes in the relationship it used to have with the electorate and meet expectations that the ANC supporters used to have of their party. We need to recall why people have voted ANC and ask whether the hopes vested in the ANC still hold as an aspiration or expectation of others who might represent them - and whether a DA-led government could fulfil them.
What does it mean to displace the ANC? Remember that the ANC is seen as the key factor in securing liberation from apartheid and initiating democratic government with the first elections, where all adults were entitled to vote. The ANC was trusted because it had made many sacrifices in order to bring this victory about. The DA and its predecessors had at best an ambiguous relationship to the liberation struggle, supporting South African Defence Force raids into neighbouring states, condemning sanctions against apartheid and taking other actions that were seen to be hostile to liberation.
For the first years of post-apartheid South Africa, many people benefitted from the supply of water, electricity and other improvements. Even where others did not see this improvement in their lives, the predominantly ANC-supporting electorate understood that it would take time to remedy their conditions. They trusted the organisation and had confidence in its leaders to do their best to provide what was needed as speedily as possible. Over many decades the ANC had forged a link with their constituency that was based on a sense that the organisation had compassion for the poor and downtrodden, and that they pursued their interests with passion.
The ANC had been more than an electoral party for many decades. Historically, it held a special place in many families and communities, something different from that of every other political party in South Africa. During the period of illegality many families would pray at night for the leaders on Robben Island and in exile.
The loyalty the ANC enjoyed was passed on from generation to generation, with some families seeing themselves as being ANC. That is why the late Wilton Mkwayi, one of the great Robben Island stalwarts, records how his father simply posted him an ANC membership card when he was a schoolboy. That is why, during the Congress of the People campaign to gather demands for the Freedom Charter, some people were puzzled when asked to join the ANC, saying: "But we are ANC". In other words, the membership card would merely have confirmed what they already were in terms of their sense of belonging and identity.
The ANC itself related to some of its members as "family", especially in the period of exile. It should be recalled that many young people missed their parents and, if they fell pregnant, had no one other than members of the organisation to advise them on parenting. In the camps, one female MK soldier, Phumla Williams, records missing her mother every night and says this was true of the men as well. That is why men asked that the older women – like Gertrude Shope - should visit the camps more than once a month. They wanted mothers to be there for them and the ANC tried to meet this need. (See Raymond Suttner, The ANC Underground, Jacana Media, 2015 at p 143)

The establishment of MK interfaced at times with other rituals, like initiation. A group of young boys left Dinokana, near Zeerust, in the early 1960s to join MK. They were in the process of completing their initiation and joining MK was seen as part of the rites of passage for these youngsters who were known as "MaGorillas". (The ANC Underground, pp. 113-114). This group later spent years and years in Tanzania, where they sometimes formed romantic relationships and fathered children.
Initially, the ANC did not allow its cadres to marry local people for security reasons. But after some decades, these men applied to the ANC chief representative for permission to marry and that was granted. As in most cases in South Africa, lobolo had to be paid and the ANC negotiated it in the same way as a parent may have done at home. (Arianna Lissoni & Maria Suriano (2014) Married to the ANC: Tanzanian Women's Entanglement in South Africa's Liberation Struggle, Journal of Southern African Studies, 40:1, 129-150). In a sense, this illustrates very powerfully how fully the organisation played out the parental role.
It would be a mistake to assume that the hopes vested in, but no longer fulfilled by the ANC have simply disappeared. Many of its former members and supporters may well still be looking for a relationship with a party, which is not simply efficient and meritocratic, but demonstrates real compassion. Is the DA ready to play such a role? Of course, while many of the older generation, may have these expectations, as manifested in the sense of loss expressed by many stalwarts, it may be that the younger generation do not seek a relationship much different from that of a conventional political party. That needs to be carefully studied.
The DA has emphasised efficiency and regular ways of conducting government, as opposed to the corruption and undermining of legal processes by the ANC. That may or may not be valid in all cases of the DA's functioning, but there is something cold about it that makes it hard for the DA to form a tight relationship with the ANC's former constituency.
In the first place, as has been regularly mentioned, the DA has not been able to shake off the image of being a white party. Many see it as soft and insensitive on racism. It is astonishing how often perpetrators of racist media posts turn out to be card carrying DA members and how DA members are very often former NP members or even state officials who have perpetrated atrocities, as with the Trojan horse killings in the Western Cape, where police hiding in a cartons on a truck apparently transporting merchandise ambushed young people who were massacred (http://www.sahistory.org.za/dated-event/trojan-horse-massacre). What steps has it taken to induct its members in non-racialism, if any? We know, from statements of some black DA leaders that there is a sense that the party is still run by a white cabal.
On other levels, the moment the DA moves away from exposing the ANC-led government, it shows high levels of ineptitude. While I do not exclude the value of bipartisanship on certain issues, Tony Leon is correct in suggesting that the DA may do well to develop its own, alternative foreign policy. But the DA leader, Mmusi Maimane, acted at best with astonishing naivete in visiting Israel and having a photo opportunity with Benjamin Netanyahu. This comes only weeks after the UN Security Council, including the US (breaking from its general trend) voted to censure Israel for continuing to build illegal Israeli settlements, contrary to international law.
We do not know how significant a factor the EFF will be in future electoral politics, given that its vote remained stable between the 2014 national and the 2016 local government elections. It is advancing demands that may make it difficult to maintain and form future coalitions with the DA. But if it advances demands, on land, for example, that seek to hasten distribution within the constitution, they may debunk the myth that it is the constitution that is the barrier against land redistribution. It may aim at supplying the political will that has been absent. This may be seen as a direct challenge to the ANC, which appears to be foregrounding land distribution in current speeches.
Certainly, the ANC may well fail to secure 50% in 2019. But it remains to be seen whether they rather than the DA will be better placed to form a coalition government, with one or other permutation.
Even if the ANC is defeated, there needs to be a lot of introspection on the part of alternative parties over what the ANC represented in the past and whether they are ready to step in and represent the people with the compassion and dedication which previously resided in the ANC and is now absent.

Raymond Suttner is a scholar and political analyst. He was a political prisoner for activities in the ANC-led liberation struggle. Currently he is a Part-time Professor attached to Rhodes University and an Emeritus Professor at UNISA. He served lengthy periods in prison and house arrest for underground and public anti-apartheid activities. His prison memoir Inside Apartheid's prison will be reissued with a new afterword, by Jacana Media in the first half of this year. He blogs at raymondsuttner.com and his twitter handle is @raymondsuttner