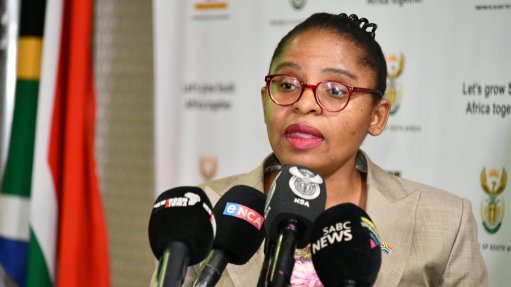 Minister in The Presidency Khumbudzo Ntshavheni
Cabinet reports that a target has been set to save about 1 000 MW, or the equivalent of one stage of loadshedding, through demand side management (DSM) measures, but has provided no details as to what initiatives will be introduced and at what cost.
Presenting the outcomes of Cabinet's April 26 meeting, Minister in The Presidency Khumbudzo Ntshavheni described lowering electricity usage, especially during the evening peak from 17:00 to 21:00, as representing a "win-win" solution. She argued that DSM initiatives could reduce pressure on the power grid and save households and firms money "without affecting business productivity or quality of life".
"The aim is that collectively we must save electricity by switching off non-essential appliances, using gas to cook, installing energy efficient light bulbs, and switching off appliances like geysers when not in use," Ntshavheni said, noting that such efforts had proven effective in the run-up to the 2010 FIFA World Cup.
"The target is to save about 1 000 MW of power, which is equivalent to one stage of loadshedding."
Cabinet called on business, industry and residential customers to join the DSM campaign being pursued by Eskom with the support of the National Energy Crisis Committee (NECOM).
The DSM initiative was one of several plans outlined by NECOM and Eskom to reduce the intensity of loadshedding ahead of the high-demand winter months, but the utility had not yet formally released its winter outlook.
Most of the DSM programmes that had been mooted were unlikely to be able to be implemented immediately, however, and there was thus growing concern that Stage 6 loadshedding, the highest stage to be officially implemented to date by Eskom, could well be breached in the coming months.
On the supply-side there were also few immediate options to provide relief, besides using the open-cycle gas turbines more intensively and Electricity Minister Dr Kgosientsho Ramokgopa had already indicated that the utility had a R30-billion diesel budget for 2023/24.
At a recent National Demand Management Indaba some short-term savings options were raised, including by the Energy Intensive Users Group, which proposed increasing financial incentives for demand response and even suggested that government reconsider power buybacks during winter as a way to avoid higher levels of loadshedding.
It is understood that such a buyback scheme, which would see large electricity consumers remunerated for agreeing to cut demand, has been canvased with both Eskom and Ramokgopa but that no agreement had yet been reached regarding its implementation.