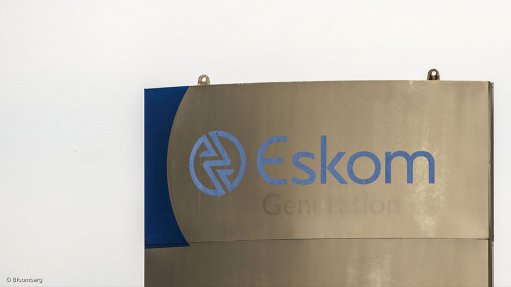 Photo by: Bloomberg
Cabinet stressed on Thursday that government is working closely with embattled State-owned enterprise Eskom to fast-track the repair of power station units that have resulted in Stage 6 loadshedding in recent days and frustrated progress in the programme to improve energy security in the country.
Briefing the media on outcomes of the Cabinet meeting on Wednesday, Minister in the Presidency Khumbudzo Ntshavheni outlined steps taken by government and Eskom to combat loadshedding.
"Intense work is underway at Eskom to increase the utility's energy availability factor through substantial maintenance, maximising the use of open cycle gas turbines, securing additional generation capacity from private investment in renewables and scaling up awareness to improve demand side management from large electricity users and from households," she said.
Further, she noted that acts of sabotage continued to plague Eskom's infrastructure which had forced government to deploy 880 South African National Defence Force members to safeguard power stations, and which she stated were part of government measures "to prevent attempts to collapse the national grid".
Cabinet also welcomed the decision to appeal the recent Pretoria High Court ruling that instructed Eskom to exempt public institutions, including schools, clinics, hospitals and police stations, from loadshedding.
Meanwhile, Finance Minister Enoch Godongwana has introduced a debt relief package that writes off historic municipal debt to Eskom to help free up revenue at municipalities to provide reliable basic services.
Municipalities would be required to meet 33 strict conditions to qualify, said Ntshavheni.
The conditions include among others maintaining minimum average revenue collection targets for electricity and water services; ring-fencing all electricity, water and sanitation revenue collected; and paying the Eskom current account first and the bulk water current account second before any other monthly payments.
Electricity Minister Dr Kgosientsho Ramokgopa will on Friday provide a weekly update on progress in the implementation of the Energy Action Plan. Ntshavheni explained that this weekly briefing provided an opportunity to update media and the nation on progress realised in addressing loadshedding in the past week but also account for and explain the factors contributing to recent incidents of loadshedding.