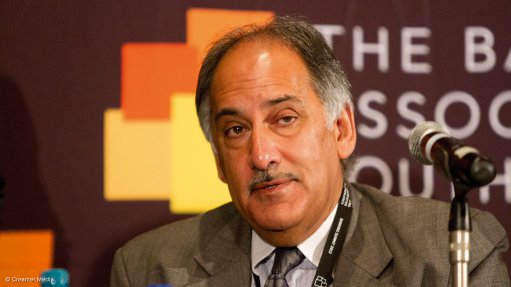 Busa CEO Cas Coovadia
Photo by: Creamer Media
Business Unity South Africa (Busa) expressed dissatisfaction with government's response to the allegations that South Africa supplied arms to Russia, warning that these claims introduced uncertainty that citizens simply cannot afford.
On Thursday US ambassador Reuben Brigety claimed that South Africa had provided Russia with weapons and ammunition when a Russian vessel, Lady R, docked at the Simon's Town naval base in Cape Town late last year.
Government has hit back at the US for undermining "the spirit of cooperation and partnership".
The Presidency has announced an inquiry into the matter, which will be headed by a retired judge.
Busa pointed out that the immediate market reaction to the accusation was the dramatic fall of the rand against the dollar, which indicated how seriously the markets consider the allegations.
"Our economy is already buckling under the severe impact of loadshedding which is expected to shave off as much as 2% from the gross domestic product growth forecast for 2023, and any further negative developments will sink us even deeper," said Busa CEO Cas Coovadia.
If proven true, he believes the allegations will jeopardise South Africa's trade relations, specifically the continued access to US markets created under the Africa Growth Opportunity Act (Agoa) which South Africa desperately needs.
Coovadia stressed that as a beneficiary of Agoa, South Africa would soon be up for review, and warned that this development threatened the country's ongoing participation in this critical trade agreement.
Busa noted the inquiry to investigate the claims against South Africa but it appealed to Ramaphosa to provide urgent clarity and certainty on the allegations.
Coovadia said the market response made South Africa less attractive to investors.
"Ordinarily, we do not concern ourselves with geo-political issues and South Africa's position on its foreign relations. However, we are concerned that the current foreign policy stance of the South African government is having a negative impact on the economy and inhibits our ability, as a country, to address the socioeconomic crises we face," he explained.