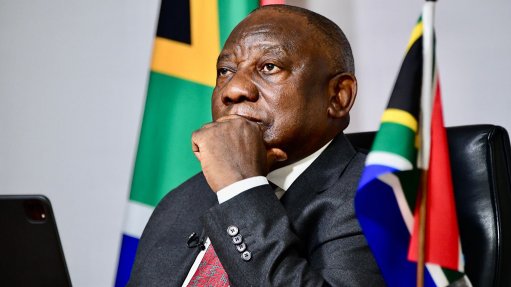 Busa has called on President Cyril Ramaphosa to ensure his government implements critical decisions and holds those failing to implement to account
Business organisation Business Unity South Africa (Busa) says it has noted the African National Congress' (ANC's) yearly statement of January 8, indicating that it appreciates that this reflects priority issues for the majority party as it goes into the new year.
However, Busa says it will be concentrating considerably on President Cyril Ramaphosa's State of the Nation Address (SoNA) on the February 9, which should reflect on the priorities for government.
The theme of the ANC statement is "year of decisive action to advance people's interest."
Busa reiterates that the only way to advance people's interest is through the attraction of considerable investment, both local and global, and government taking the necessary decisions, and implementing them, to create a sustainable environment for inclusive growth.
It has urged Ramaphosa to be absolutely clear in the SoNA on this and to exhort government, under his leadership, to see this as the critical priority.
It is also urging Ramaphosa to ensure his government implements critical decisions and holds those failing to implement to account.
"This is, in our view, 'decisive action'," Busa emphasises.
Busa says the immediate priority actions tabulated in the ANC statement have already been identified by the organisation as critical interventions needed.
Busa identified infrastructure, logistics, law and order, water, energy and communications at a meeting with Ramaphosa in January.
It suggested then to Ramaphosa to work bilaterally with government to bed down three critical decisions, and enable its implementation, on each of these, resulting in significant positive outcome for investment and growth.
Busa says it has since done considerable work on these and will present the outcomes of work on some of these Ramaphosa during the first quarter of 2023.
It is urging government to bed down a real and meaningful bilateral partnership with Busa to ensure speedy progress on these, as agreed this month.
"We have been participating in discussions on a social compact but remain convinced that progress on these priority interventions is the priority and could provide content to a social
compact. The priority must be on agreeing interventions on the priority areas, implementing
these, and then working on a social compact to rally society around these," Busa states.
It adds that the organisation will continue devoting resources and capacity towards investment attraction and sustainable and inclusive growth, and will continue to engage Ramaphosa on these.