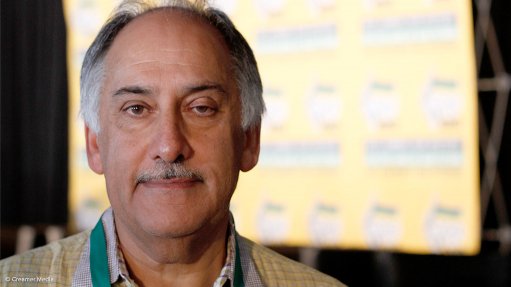 BUSA CEO Cas Coovadia
Photo by: Creamer media
Business Unity South Africa (Busa) CEO Cas Coovadia on Thursday stressed the organisation's support for the establishment of National Health Insurance, but only if there is collaboration between the private and public sectors.
Speaking on Day 1 of the second Presidential Health Compact Summit, Coovadia said the partnership was important to coordinate healthcare delivery to South Africans.
He affirmed Busa's support for the Presidential Health Compact, the summit on which will continue on Friday, as he said a focus on health security and universal health coverage were key to promote growth, job creation, productivity and investment in the economy.
The Presidential Health Compact Summit, held in Boksburg, aims to review the implementation of interventions agreed to during the first Summit, held in 2018.
Coovadia said Busa supported partnership models that would improve healthcare cover access, specifically for uninsured employees. He said there was an opportunity to build on a partnership approach to funding through the framework that the Council for Medical Schemes had developed.
"Investment requires certainty and predictability in policy implementation and execution. Health security and universal health coverage is not just an issue for the private health sector, but cuts across all sectors of business and business in its entirety," said Coovadia.
He added that Covid-19 exposed inequalities in the healthcare system and the need to further establish capacity to deal with public health crises and future pandemics.
Coovadia added that Busa also supported the enhancement of the medical scheme regulatory framework to accommodate the learnings from Covid-19 and the need for more affordable cover.
"Whilst the summit is both critical and timely, as business we need to express our frustration with the significant regulatory lag, red tape, and administrative burden and, in instances, lack of regulatory reform which prevents the private sector taking on further public sector patients and other much-needed intervention. In line with the President and Cabinet's call to reduce red tape and to improve the ease of doing business, we wish to make a clarion call today for a significant acceleration of this imperative in line with the work that Mr. Sipho Nkosi and the President are carrying out – this needs to be amplified in the healthcare sector," he said.