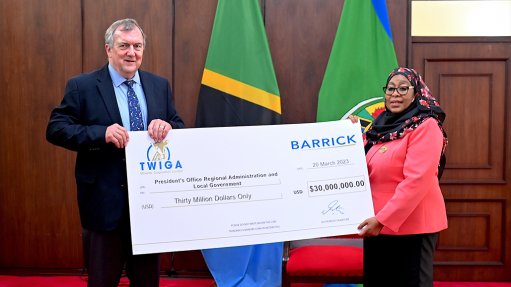 Barrick president and CEO Dr Mark Bristow with Tanzania President Samia Suluhu Hassan.
JOHANNESBURG (miningweekly.com) – Gold and copper mining company Barrick is maintaining its transition to cleaner energy and supporting education initiatives, including in East Africa's Tanzania, the company said on Wednesday when it reported first-quarter results.
On the environmental front, Barrick's total emissions in 2022 were 6% lower compared with the year before and 11% lower than the 2018 baseline.
At Loulo in West Africa's Mali, work is under way on the expansion of Barrick's solar plant as well as the addition of a battery storage system.
At Kibali in Central Africa's Democratic Republic of Congo, a battery back-up system is being planned for the three hydropower stations that supply the bulk of Kibali's energy.
At Nevada, in the US, work has started on the TS Power Plant's solar project, as well as a natural gas co-fire project.
The New York- and Toronto-listed Barrick, headed by South African-born Dr Mark Bristow, is leading a nationwide education initiative in Tanzania and has opened Humai school in Pakistan, where the development of Reko Diq is scheduled to go into production in 2028 as one of the world's largest undeveloped copper/gold deposits.
In a meeting between Bristow and Tanzania President Samia Suluhu Hassan, the company affirmed its pledge of $30-million in partnership with the Tanzanian government, towards the expansion of education infrastructure in Tanzania.
The objective is to build 1 090 classrooms, 1 640 ablution blocks and 270 dormitories across 161 schools nationwide, helping to accommodate approximately 49 000 of the estimated 190 000 students who are expected to start their A-levels in July this year. The first $10-million was committed in April and the balance will be rolled out with the programme.
"We believe that education is key to the development of the country," Bristow stated in a media release to Mining Weekly.
North Mara has already spent $1.9-million on 87 primary and secondary schools in the Tarime District, 14 of which are the best-performing schools in the district. Bulyanhulu has spent $1.8-million on 80 educational projects around the mine and is building a vocational education training college centre in Bunango Village. Barrick's investment around the mine gave 7 557 Tanzanian girls access to education in 2022.
While continuing to build up existing assets, Barrick is also casting its net wider in a stepped-up hunt for fresh opportunities.
During the past quarter, Barrick opened up new frontiers and secured prospects in Tanzania, Canada, the US, Peru, Dominican Republic and Saudi Arabia.
To boost production in the second half of this year and keep Barrick on track to achieve its 2023 guidance, it has completed processing plant maintenance at Nevada Gold Mines, converted the Goldstrike autoclave to a carbon-in-leach process, and delivered a much-improved performance from Turquoise Ridge and the steady ramp-up of throughput at Pueblo Viejo's expanded plant.
While lower than production in the fourth quarter of 2022, first quarter production was on plan, and free cash flow still increased. Net earnings a share for the quarter were $0.07, while adjusted net earnings a share were $0.14, and the quarterly dividend was maintained at $0.10 a share.
In the Dominican Republic, construction of Pueblo Viejo's expanded process plant is 93% complete with ramp-up to full capacity by July. Currently Barrick's biggest growth project, it has been designed to extend the mine's life to beyond 2040 at an expected average production rate of 800 000 oz/y of gold.
Pueblo Viejo was facing closure at the time of the merger with Bristow's South Africa-linked Randgold in January 2019, because it did not have the necessary tailings storage capacity at the time to be converted to reserves.
Today, Pueblo Viejo is the first Dominican mining company to be awarded the highest level of gender equality certification by the country's Ministry of Women and the United Nations Development Programme, for three consecutive years.
Barrick continues to invest in the development of a multicultural and multigenerational workforce, sourcing and training the vast majority of its employees from its host countries in Africa, the Middle East, South and Central America, as well as in Canada and USA.
Its diverse workforce is the product of Barrick's strategy of local employment and stakeholder recognition in the countries in which it operates, with 96% of its workforce and 78% of its management host country or community hires. The age profile is also trending younger, with 54% of employees now under the age of 40 and 17% younger than 30.
"Our sustainability approach allows us to tackle the challenges of alleviating poverty, managing changes to the climate, and preserving biodiversity holistically and concurrently – because they are inextricably connected," said Bristow.
For example, Barrick generated more than $10.7-billion in economic value and created 21 000 jobs in 2022, with $1.4-billion worth of goods and services procured from suppliers in the communities closest to its mines. In total, Barrick spent over $6.1-billion on host country suppliers in 2022.
Barrick also invested more than $36-million in community development projects from education facilities in Nevada, to business incubators in the Dominican Republic and gender-based violence awareness in Tanzania. Barrick's employees at Pueblo Viejo are now 23% women, with a target of 50% female representation for all new hires.
"For us, sustainability is instrumental in our continued drive to operate mines that are welcomed and respected as development partners throughout the world," said Bristow.