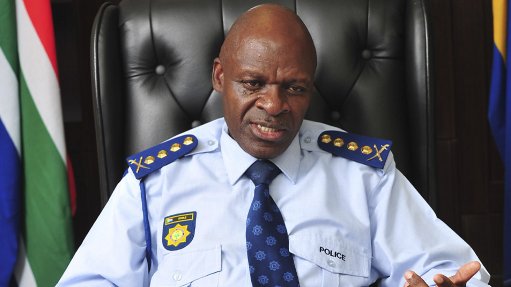 Police Commissioner General Khehla Sitole
Top cop Khehla Sitole was dealt a hammer blow after an application for leave to appeal a withering court ruling – which found that he and two deputies had breached their duties as police officers by effectively waylaying an Independent Police Investigative Directorate (IPID) probe into sweeping corruption – was denied.
This week, Pretoria High Court Judge Norman Davis dismissed an application for leave to appeal his judgment in January – one which is a scathing indictment on Sitole's probity – with costs.
The court battle centres on a string of IPID corruption probes and the refusal of police top brass to declassify documents. This includes "classified information" around a supposed money laundering scheme to draw money from the public purse and disburse it to buy votes at the African National Congress's (ANC's) 2017 Nasrec elective conference.
After consecutive courtroom losses, which affirmed that he has fallen foul of the law, Police Minister Bheki Cele and President Cyril Ramaphosa have been asked to probe Sitole's fitness to hold office.
In December 2017 – days before the Nasrec ANC conference where Ramaphosa beat out Nkosazana Dlamini-Zuma for the ANC presidency – IPID investigators thwarted an alleged attempt by the police's Crime Intelligence (CI) Division to illegally access R45-million to purchase an electronic spying device known as a grabber.
The grabber – which is capable of intercepting cellphone calls and messages – was to be procured from a company called I-View at a staggeringly inflated price, with similar devices available from between R7-million and R10-million on the open market.
IPID investigators alleged that I-View was the conduit through which millions of rands were to be laundered before making their way into the pockets of ANC delegates at Nasrec as an incentive to vote for a certain faction within the party.
When former IPID head Robert McBride confronted Sitole, wielding CCTV footage of a covert rendezvous and evidence unearthed by IPID, Sitole put the brakes on the purchase.
IPID was also seized with investigating other contracts linked to I-View, and with the grabber plot averted, the probes should then have gained purchase.
Sitole alongside his deputies Francinah Vuma and Leonard Tsumane have been closely tied to the investigations. Instead of cooperating with IPID's investigations, as they are duty bound to do, they prevaricated and chicaned.
The three closed rank, refusing to be interviewed and Sitole specifically insisted the documents were classified. Sitole has the authority to declassify documents.
In his January ruling, Davis was caustic.
"One would have expected SAPS management, upon hearing of allegations of a three-fold overpricing of basic equipment such as flak jackets, to immediately raise hue and cry, and volunteer any assistance to the investigation of such flagrant corruption within its ranks. The failure… constitutes a breach," Davis said.
And this is what Sitole, Vuma and Tsumane applied to take on appeal.
But Davis made short shrift of the taxpayer-funded legal bid to restore the trio's credibility.
"When requested to make themselves available for interviews, rather than comply with their statutory obligations as police officers willing to contribute to the investigation of crimes, they sought legal assistance and, on this basis, thwarted IPID's investigations."
The judge found that on the evidence before him, Sitole, Vuma and Tsumane obfuscated the investigation and feigned cooperation.
"… the record showed no active or positive steps taken in compliances with any of their duties," he added.
IPID had argued at length that the issue of classification was merely a red herring and that all along there was no impediment in handing over these files, other than one that was self-created on a flawed interpretation of the law.
"The failure of the applicants to even entertain this proposition, let alone attempts to arrange access to the documents, equally amounts to non-compliance with their duties," Davis wrote.
Detailed questions were put to police top brass through their network of spokespeople on Wednesday. No response has been forthcoming.
On the back of Davis' first judgment, Cele – at the behest of Ramaphosa – had called Sitole to account for what implications the ruling had for the police.
In correspondence it was revealed that the first failed legal bid to keep the documents secret cost taxpayers R1.5-million.
With this week's cost order, the public purse will be bled once more, and it remains unclear if Sitole and his cohort will take the fight directly to the Supreme Court of Appeal.