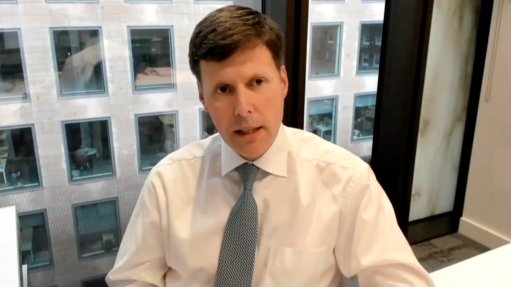 Anglo American CEO Duncan Wanblad.
JOHANNESBURG (miningweekly.com) – Diversified mining company Anglo American has announced that it will be funding an education initiative in Zambia close to where it is involved in copper and cobalt exploration activities.
"This is the right thing for local people, regardless of the outcome of our preliminary exploration on future mining activities," Anglo Zambia discovery manager Adriana Blesa stated in a release.
Up to now, Anglo's education programmes have centred on South Africa, Zimbabwe, Brazil, Chile, Peru, the UK, Australia, and Canada, with programmes for Botswana and Namibia under scrutiny as part of De Beers' Building Forever goals. The largest portfolios are in South Africa and South America, where the London- and Johannesburg-listed Anglo supports more than 600 schools.
Now in Zambia, the company headed by CEO Duncan Wanblad has entered into a joint venture exploration agreement with Arc Minerals, headed by former Anglo and De Beers executive Nick von Schirnding, whose late father Kurt von Schirnding was South Africa's former ambassador to the United Nations, Mining Weekly can report.
Once the conditions of that transaction with London Aim-listed Arc Minerals are satisfied, Anglo will have the right to retain up to a 70% shareholding in the joint venture company holding a number of licences to explore for copper and cobalt in Zambia's North-Western province.
In the Lyovu rural district of Zambia's North-Western province, located near an area where its exploration is under way, Anglo will be helping to improve access to education for 160 high school-aged girls.
To do this, it has launched a partnership with humanitarian organisation World Vision to contribute to 160 girls having access to boarding facilities.
This support aligns with the Zambian government's efforts to promote access to quality education for girls, particularly in the Zambezi district, which has 82 primary schools, compared with 14 secondary schools, making it difficult for most learners to transition to senior education.
The project is expected to increase access to secondary education through improved dormitory space while reducing long-distance travel to and from school.
Zambia's Education Ministry has made considerable gains in providing access to primary education; however, existing secondary school facilities have limited capacity to absorb learners from primary schools. As a result, there is a pressing need for improved or additional facilities, with almost 200 girls in the district dropping out of school in the past year, World Vision CEO and national director John Hasse noted in the release.