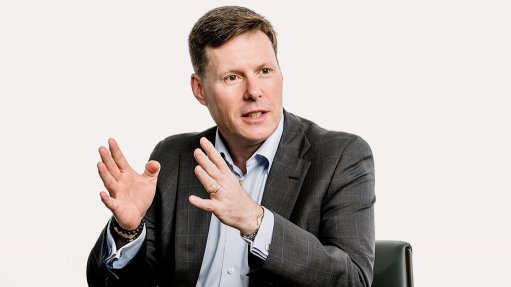 Anglo American CEO Duncan Wanblad.
JOHANNESBURG (miningweekly.com) ­– Diversified mining and marketing company Anglo American has announced several changes to its senior management team and organisation to lead what it describes as its "next phase of delivery".
The London- and Johannesburg-listed Anglo, headed by CEO Duncan Wanblad, which is reorganising how it manages its production businesses as well as the functional expertise that supports these businesses, has been refreshing its executive team over the last 12 months.
In February, Al Cook joined as CEO of De Beers. In May, Alison Atkinson took up her role as projects and development director, and Monique Carter has joined as people and organisation director.
Helena Nonka will direct a combined strategy and sustainability team and Richard Price a combined legal and corporate affairs team.
Stephen Pearce will continue to lead the finance team across the group but has indicated his intention to retire during this year, having served as finance director since early 2017. The process to appoint his successor is under way.
Anglo's production businesses will be consolidated into two regions – Africa and Australia, and the Americas.
The regional director, Africa and Australia, is South Africa's Themba Mkhwanazi, currently the Bulk Commodities CEO, with Ruben Fernandes the regional director of the Americas.
Anglo produces platinum group metals and iron-ore in South Africa and steelmaking coal in Australia. In Brazil, it produces iron-ore and nickel, and in Chile and Peru, copper. Under development is the crop nutrients business in the UK.
Anglo stated in a release to Mining Weekly that Mkhwanazi, who will be based in South Africa, and Fernandes, who will be based in Brazil, will be accountable for safe and responsible operations, optimising current performance, future options and commercial value, in line with the group's strategy, and will work to ensure effective functional support and service delivery to their operations in each country,
The CEO of crop nutrients is Tom McCulley and the CEO of marketing is Peter Whitcutt.
Pearce, Carter and technical and operations director Matt Daley will together support the governance and strategic delivery of the group and the performance of the production businesses.
Anik Michaud, who has been instrumental over 15 years in shaping the Anglo brand, sustainability and thought leadership as critical underpins to employee and stakeholder trust, has decided that the time is right for her to develop the next phase of her career outside of Anglo, while Didier Charreton has decided to retire after almost eight years of transforming the people strategy, most notably in talent development and in creating a more inclusive and diverse workplace for all employees.
South Africa's Nolitha Fakude, who will continue as the chairperson of Anglo's management board in this country, will lead a number of special projects in the national interest, while also advising Wanblad and supporting Mkhwanazi in his new regional role.
"The fundamental demand outlook for responsibly sourced metals and minerals is ever more compelling," said Wanblad, who believes that Anglo is well positioned to produce and grow into the two major demand trends of economic decarbonisation and the needs of a growing and urbanising global population – from homes and electronics to food and luxuries.
"The changes we have announced today create the senior team and organisational structure that I believe will lead us to deliver our full potential," Wanblad added.
The changes take effect from July 1, when Anglo's executive leadership team will be Wanblad, Pearce, Cook, Atkinson, Nonka, Daley, Carter, Whitcutt, Price, Mkhwanazi, Fernandes, and McCulley.