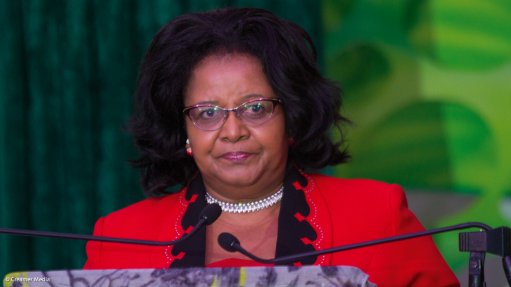 Edna Molewa
Photo by: Duane Daws
The African National Congress (ANC) did not appreciate the manner in which the US embassy in Pretoria reacted to a claim by the ruling party that Washington was actively seeking "regime change" in South Africa and would raise it with the mission, Environmental Affairs Minister Edna Molewa said on Tuesday.
"What we are looking forward to do is have an engagement with the US embassy," Molewa told a media briefing by government's international relations and security cluster.
"Especially given the manner in which the responses came from the other side."
After ANC secretary-general Gwede Mantashe last week told ruling party supporters the US embassy regularly hosted clandestine meetings aimed at overthrowing the government in South Africa, US ambassador Patrick Gaspard poked fun at the allegation by tweeting a picture of US talkshow host Oprah Winfrey with the sentence: "You get a coup d'état and you get a coup d'état and you get a coup d'état! Everybody gets a coup!!!!"
Gaspard followed up with another tweet saying he would use all means, even sarcasm, to defend the diplomatic's mission's integrity and hard work to help South Africa achieve economic growth and prosperity. The US embassy declined to give further comment on Mantashe's remarks.
Molewa said if the situation had been reversed and the South African government was facing such allegations, it would deal with it by meeting the other side for face-to-face talks.
"I would go to the Luthuli House of the US and have a discussion," she added, referring to the ANC headquarters.
"As the ANC leadership we are going to do that. We are going to have engagement to clarify these things. It will still happen, but at the right time."
She added, however, that this was an issue raised by the ruling party and said from the point of view of the government "our relations with the US are going well". Addressing the same media briefing, the ministers of state security and telecommunications were also at pains to point out that the accusation had come from the ANC and not government.
Telecommunications Minister Siyabonga Cwele added that Pretoria's relations with Washington remained strong and "very cordial" and that the recent resolution of a trade dispute surrounding the Africa Growth and Opportunity Act were proof of that.
Mantashe was addressing an ANC march in Pretoria on Friday, when he said: "As we mobilise our people, we must say be vigilant. You must see through anarchy and people who are out there in a programme of regime change. We are aware of the meetings taking place regularly at the American embassy.
"Those meetings in the American embassy are about nothing else other than mobilisation for regime change. We're aware of a programme that takes young people to the United States for six weeks, bring them back and plant them everywhere in the campuses and everywhere."