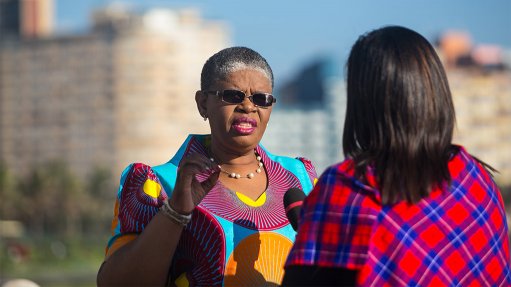 Zandile Gumede
After surviving a fresh fight for her to be forced to resign following her election as African National Congress (ANC) eThekwini chair, Zandile Gumede believes the ANC's contentious step-aside rule should be debated and finalised at the party's policy conference in July.
The step-aside rule continues to cause intense debate in the ANC, especially after the party fine-tuned the rule. Gumede has a keen interest in how the party decides to cement the step-aside rule as it could decide her political future.
The latest debate on the step-aside rule took place at the ANC's national working committee meeting on Monday, where calls were made for newly elected ANC leaders Gumede and ANC Mpumalanga provincial treasurer Mandla Msibi to be forced to vacate their positions.
The two were elected before the party's national executive committee (NEC) decided that criminally affected members should be barred from contesting leadership positions.
The original "step-aside" guideline had only recommended that implicated members step aside.
Still, with the ANC's elective year gaining steam, the party had moved to address the issue of criminally accused members being elected to powerful positions.
There were questions and discussions on whether Gumede and Msibi should resign, considering they were elected after the amended step-aside guidelines.
News24 understands that both politicians survived efforts to have them removed from the positions.
The ANC was expected to hold a national executive committee meeting in June.
The recommendation on criminally charged members not being allowed to stand for elective positions would likely be further debated.
The matter was also expected to be a discussion topic at the ANC policy conference in July, where members were expected to finalise the party's position on it.
Speaking to News24 on Wednesday, Gumede said she believed the step-aside rule should be settled at the ANC's policy discussion at the July conference.
Gumede declined to comment on the push to force her resignation.
She faces corruption charges in a drawn out case involving a R320-million solid waste tender.
Meanwhile, Msibi faces attempted murder charges linked to an August 2021 shooting in Mbombela.
While he had previously denied any involvement in the shooting, Msibi declined to be drawn on discussions that he too should resign on Wednesday.
Gwen Ramokgopa, the coordinator in the office of the secretary-general of the ANC, described Msibi's election by branches, despite the criminal charges he faced, as "unfortunate".