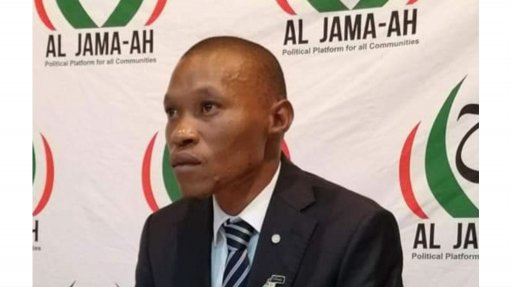 Newly elected City of Johannesburg Mayor Kabelo Gwamanda
Al Jamah-ah's Kabelo Gwamanda was elected as the new City of Johannesburg mayor, on Friday, beating ActionSA's Funzi Ngubeni and the Democratic Alliance's (DA's) Mpho Phalatse for the position.
The election follows the resignation of Thapelo Amad, who resigned last week.
Speaker Colleen Makhubele said the Electoral Commission of South Africa (IEC) declared the election as free and fair, with 266 votes cast and no spoiled votes. Ngubeni received 59 votes, Phalatse got 68 votes and Gwamanda won with 139 votes.
An initial attempt on Tuesday to elect a new mayor did not amount to anything as the African National Congress (ANC) and its partners called for protracted caucus breaks, forcing the Speaker to adjourn the meeting.
Gwamanda noted that his mayorship, and by extension the Government of Local Unity, is bound by a sense of duty.
"It is not a mere title of glamour, prestige, celebrity status that most of us like to believe. As such, the outcome of this democratic process should not be misconstrued with narratives that seek to cast aspersions and suggestions that we as a people are incapable of self-determination," he said.
He highlighted that service delivery is a competency of local government, saying the Government of Local Unity will commit to a level of service delivery for all six-million residents of Johannesburg.
ActionSA congratulated Gwamanda and vowed to be a constructive opposition in the City of Johannesburg, to ensure that all residents received quality service delivery.
The party urged Gwamanda to prioritise service delivery to desperate residents amidst bouts of loadshedding and watershedding and deteriorating roads.
Gwamanda announced his mayoral committee which includes Dada Morero for Finance, Loyiso Masuku for Group Corporate and Shared Services, Jack Sekwaila for Environment and Infrastructure Services, Mgcini Tshwaku for Public Safety, Eunice Mgcina for Development Planning, Nomoya Daphney Mnisi for Economic Development, Anthea Natasha Leitch for Human Settlements, Lubabalo Magwentshu for Community Development, Kenny Kunene for Transport and Ennie Makhafola for Health & Social Development.
ActionSA national chairperson Michael Beaumont said his party thanked the City of Johannesburg DA councillors who sided with ActionSA, the Inkatha Freedom Party (IFP), Freedom Front (FF) Plus, African Christian Democratic Party (ACDP), and the United Independent Movement (UIM), all of whom voted for Ngobeni in an attempt to keep the African National Congress (ANC) and the Economic Freedom Fighters (EFF) out of the City of Johannesburg.
Beaumont said this commitment is the type of leadership necessary to unseat the ANC in 2024, and restore South Africa to a path of prosperity.
"Without opposition parties working together and putting asides personal egos, it will be impossible to form a stable multi-party government in 2024. We ask that the DA - who was left alone amongst opposition benches in council today - reconsider its approach to coalitions, especially if it would like to see the removal of the ANC in 2024," said ActionSA.
DOOMSDAY COALITION
Meanwhile, the DA in Gauteng said it regretted the decision of the majority of Johannesburg City councillors to install ANC-EFF "puppet mayors incapable of governing the City with competence, public trust, and stability".
The DA said the result confirmed the destructive intent of the ANC-EFF-Patriotic Alliance (PA) "doomsday coalition to destabilise service delivery in Gauteng and to loot and leech whilst residents languish".
"Today could have been a turning point for the people of Johannesburg had Cllr Phalatse won and reinvigorated the massive task of getting Johannesburg back on track. But residents of the City, and people across the country, will see in today's results the crystallisation of the political choice facing all of us: a future of DA-led delivery or a future of ANC-EFF failure," said DA Gauteng Chairperson Fred Nel.