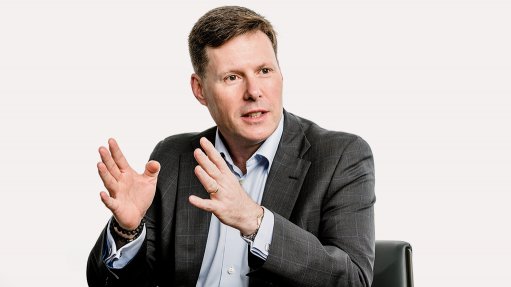 Anglo American CEO Duncan Wanblad.
JOHANNESBURG (miningweekly.com) ­– Addressing climate change is an increasingly urgent challenge for all businesses, says Anglo American CEO Duncan Wanblad, who on Tuesday presented the London- and Johannesburg-listed mining company's sustainability performance in the realms of carbon neutrality achievement, thriving community creation, and safe, inclusive and diverse workplace development.
"Our commitment to being part of the solution begins in our own business by meeting our carbon neutrality goals, while recognising that partnerships are vital to deliver our shared endeavour of a low carbon future," says Wanblad in a release to Mining Weekly, which highlights the urgent need for a cleaner, greener world.
"Everyone needs to play their part, from governments and businesses, to civil society and individuals. It is essential we also support skills and jobs and help catalyse new economic activity because this transition must include all of society – it must be 'just'. Through our Collaborative Regional Development approach, we act as a development partner to help improve lives by catalysing thriving communities with diversified economies that endure and prosper well beyond our presence," adds Wanblad.
CARBON NEUTRAL OPERATIONS BY 2040
Anglo, which is striving to be carbon neutral across all operations by 2040, was 21% below the peak levels of its 2019 Scope 1 and 2 emissions in 2022, reflecting the 100% renewable electricity supply across its South America operations, with Australia to follow in 2025. Southern Africa is currently its largest source of Scope 2 emissions, requiring the company to partner with EDF Renewables to develop 3 GW to 5 GW of clean generation capacity over the next decade.
While cutting Scope 3 emissions is largely dependent on the decarbonisation of value chains and the steel industry in particular, it has a target to halve these emissions by 2040 by working with several steelmaking customers to help develop cleaner steelmaking technologies.
It is also cutting carbon emissions in its shipping activities through the introduction of ten dual-fuelled "Ubuntu" shipping fleet over the course of 2023 and 2024, with two capesize vessels already in service and offering up to a 35% emissions reduction compared with conventional fuel.
LOCAL PROCUREMENT AND LIVELIHOODS PROGRAMMES
Anglo's sustainable mining plan commits the company to supporting three jobs offsite for every job in its operations by 2025, increasing to five offsite jobs by 2030. The focus on local procurement and collaborative regional development (CRD) is playing a major role. Through CRD, the company is making further investments with partners in agriculture, agro-processing, municipal capacity building, and education, catalysing diversification within local economies and helping to ensure the positive impacts of its operations are felt beyond the life-of-mine.
By the end of 2022, 115 000 jobs were supported through local procurement and socioeconomic development programmes, supporting 1.8 offsite jobs for every onsite job in relevant countries.
SAFE, INCLUSIVE, DIVERSE WORKPLACES
Anglo says it goes beyond physical safety by helping to create an environment of psychological safety.
In South Africa in November, it launched a Living with Dignity hub, which is an independently managed facility that provides victims of gender-based violence, bullying, harassment and victimisation with an independent reporting channel, as well as expert psycho-social and legal support.
In January, Anglo became the first mining company to be awarded the status of being a committed global living wage employer.