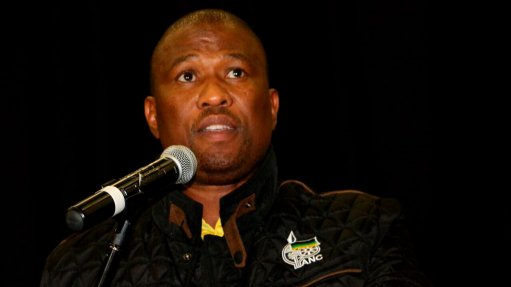 Eastern Cape Premier Oscar Mabuyane
After hearing you proclaim that the Magwa Tea Estate was 'on the path to self-sustainability and providing 1500 jobs' during the 2023 State of the Province Address (SoPA), I went to see for myself what was going on there. I first visited Magwa Tea Estate in the early 2000s and have taken a keen interest in its existence and sustainability since, especially as the Province has invested so much there.
Magwa and Majola tea estates are or should be iconic National and Provincial assets as they are the southernmost tea estates in the world and their geographical situation is spectacular with exceptionally high rainfall. Their transformation from being a former Transkei parastatal corporation to being a worker/beneficiary owned enterprise has been nothing short of a spectacular land reform failure that has cost countless hundreds of millions of rands and left the beneficiaries with nothing tangible to show for it.
My scepticism of your claims was reinforced enroute to Magwa when I passed the newly constructed, yet unoccupied and dysfunctional Ngungushe TVET College. The contract ensued in 2018 and the construction was undertaken by UPAHLA Construction (PTY) Ltd. The establishment bears all the hallmarks of dysfunction with overgrown grounds, unoccupied buildings, desks stacked on top of each other and evidence of burnt tyres at the main entrance with the security facilities vandalised – I drove on and held my breath at what I'd find at Magwa.
Upon reaching the Magwa Tea Estate notice board, that is pock marked by bullet holes, I was pleasantly surprised at seeing that some of the overgrown plantations were being cut back. This was a positive sign. Soon thereafter though, I encountered livestock (sheep and cattle) in the unfenced plantations and some of the plantations are over 6-foot high and littered with pig weed and blue gum saplings. My heart dropped but as I drove on I encountered some productive plantation blocks that have been cut back and pruned and this was encouraging. However, the further into the estate I went I saw more overgrown plantation blocks and I was further depressed to observe that some recently pruned blocks were already becoming overgrown and unproductive. I witnessed some burnt plantations too.
Then my heart broke as I exited the eastern side of the plantation and saw the Ntsubane State Forest, whose neglect is reflected by the notice boards announcing their ownership by the National Department of Forestry and Fisheries. These forests that are a state asset are unkempt, they are not protected by any fire breaks and much of the plantation has also been burnt and I suspect that the burnt tea plantations were as a result of the fires that burnt parts of the forest or vice versa.
I then turned towards the factory expecting at least to see some upgrading since my last visit in 2013, which would bear testimony to the claim of it being on its way to sustainability. I regret to say that there was no such evidence and to the contrary what I encountered there confirmed my worst fears. This estate is for all intents and purposes bankrupt and is kept going by ongoing state bailouts much like our lamentable Eskom.
I challenge the Premier therefore to provide actual financial evidence of these tea plantations' sustainability by providing the facts of what has been invested in to the estate and what income it has generated in the past 10 years or at least since he has been premier.
I left this beautiful part of our province disillusioned and disappointed that once again the people of this province are being told what a great story the ANC has to tell when in fact it is all smoke and mirrors and is actually a nightmare. The workers live in appalling conditions and they informed me that they have no water or electricity.
My next stop was the Majola Tea Estate which the Premier described as recovering and my heart was filled with dread.
After leaving the tar road from Port St Johns to Mthatha I soon discovered that the gravel road to the Majola Teas Estate is one of the best that I have travelled on for many years. The Majola villages have become infamous for multiple murders, burning down of houses and reprisal attacks, which leave everyone traumatised. Bheki Cele, the Minister of Police, had visited Majola the same week and promised all sorts of interventions, this seems rather too little too late as these perennial attacks that have their genesis in stock theft and other orchestrated criminal acts have cost many lives over the past few years. Anyway, better late than never seems to be the crime-fighting currency we as SA's have to be deal in.
Majola Tea Estate has undergone something of a management metamorphosis as the plantations have been pruned to a much better plucking table height and the estate looks reasonably good. The factory remains archaic and in need of an upgrade and the farm sheds, equipment and implements also are reflective of an enterprise that is literally running on empty.
There were also cattle in the plantations that are also not fenced, but less so than at Magwa.
In conclusion, Honourable Premier I wish to concede that there is some progress and visible improvement on both tea estates, however, the claims that they are on the path to self-sustainability is clearly far-fetched and is one that I am publicly challenging.
Your public admission that the ANC has let the rural people of the province down, especially those residing to the East of the Kei River was plain to see on my visit to these two estates and their surrounds. The question and great challenge is: what are you doing to redress this real life crisis of rural poverty as it is driving an unsustainable rate of urbanisation that comes with extraordinary social and service delivery challenges?
I venture that you and you party have no solution to this dilemma because your policy choices reinforce the status quo and your countenance of corruption committed by fellow comrades continues to undermine any and every effort to address the failures of your government. My assertion is therefore that the people of this province no longer trust you and your government, as they also no longer trust the South African police and that they will turn against your government because their long-suffering endurance and blind loyalty has finally run out. Democracy will prevail and political change will happen as surely as the seasons for growing and harvesting tea come and go. I look forward to your response.
Issued by ActionSA Eastern Cape Chairperson Athol Trollip